Murphy held a special place in the hearts of the members of the Theatiki Fife and Drum Corps. While obviously not a performing member, he was always considered family, along with his humans, Phyllis and Paul Dickinson. Murphy had a rough start to life
after being hit by a car and left to wander for a week with two broken legs. He came to the Dickinsons at a difficult time in their lives as well, and what started as a foster relationship turned into an adoption. Soon Murphy was traveling with the Dickinsons to historical reenactments.
It was at Theatiki, an event that used to be run in Illinois, that Murphy met the Theatiki Fife and Drum Corps. In the words of Phyllis, "from the very first time he heard the Fife and drum Corps, Murphy was interested. On Friday evening, He HAD to go over and see where the sound was coming from. Then he didn't want to leave the camp while the corps still played. I took him to watch the corps play at colors, during the performance, and later in the day too. Every time he heard the Corps play, he was very insistent that I take him over to watch and hear.
On Sunday, after watching colors, Murphy and I headed back to our tent, only to discover that Theatiki Fife and Drum Corps followed us into the street we were camped on, formed up, and played

just for Murphy. They played "Hell on the Wabash" which was one of Murphy's favorite songs. The photo says it all….Murphy watching intently as the Corps played. We work hard to introduce our new dogs to lots of experiences, and Murphy
wanted to see everything and meet everyone and do everything.
Over the years Murphy got lots of attention and lots of music from the Corps. He even got to be a roadie, taking the bass drum into the performance, and bringing in cookies and water for the troops. He loved the hunting horns and when the drummers did fancy things with their sticks. It wasn't just that he liked Fife and Drum music. While it was true that he liked his music LOUD and LIVE, other fife and drum corps never interested him. And he could tell the difference after about three notes (faster than me!). Something about the Theatiki Fife a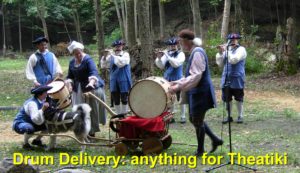 nd Drum Corps that he just loved and wanted to hear/watch up close.
And so much tolerance and kindness was shown to him by the Corps over the years. He was invited to be in a photo with the corps, and spent his time "Kissing the Kings" – not really a great professional shot, but it was 100% pure Murphy. Cathy King made him a "uniform collar," which he wore with pride.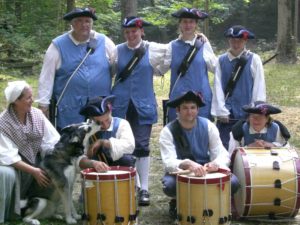 The vibe from the Theatiki Fife and Drum Corps is magic, and I think that is what Murphy reacted to. He knew I loved listening and watching too, which is why it became a "Murphy and me thing" but at first, he was just totally focused on the music.
And why wouldn't such a special Husky love such a special group of people as Theatiki Fife and Drum Corps?
That's the start, and it continued right up until he passed away so suddenly. The corps helped make him the open, sweet, inquisitive, hardworking Husky he got to be. And we love you all for it."